陳聰毅
Tsong-Yi Chen - AI資安組, 資訊組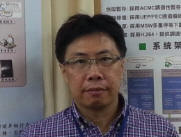 英文名字:Tsong-Yi Chen
分  機:15614
電子郵件:chentso@nkust.edu.tw
學  歷:美國伊利諾理工學院電腦科學 博士
專  長:
自然語言處理
人工智慧
影像處理
資訊安全
影像與視訊處理
研究室網頁連結
重點設備
DVR智慧型監控系統
研究領域
1. 影像及視訊處理
2. 自然語言處理
近五年專題計畫
[1] "以雲端服務為基礎之智慧型行車安全中介平台設計與實作-子計畫三:支援安全駕駛之人車感測閘道技術研發(I)",100-2218-E-151-005, (2011/8/1~2012/7/31)-主持人
[2] "以雲端服務為基礎之智慧型行車安全中介平台設計與實作-總計畫(I)",100-2218-E-020-001-,(2011/8/1~2012/7/31)-共同主持人
[3] "基於算幾不等式分析之適應性加權影像雜訊濾波器",100-2221-E-151-053,(2011/8/1~2012/7/31) -共同主持人
[4]"多攝影機監視區域之行人追蹤暨辨別技術",100-2622-E-151-012-CC3,(2011/6/1~2012/5/31) -共同主持人
[5] "基於歐基里德距離像素相似性暨完滿二元樹結構之影像雜訊衰減研究",99-2221-E-151-054-, (2010/8/1~ 2011/7/31) -共同主持人
[6] "應用於DVR系統在進出監視區域之人員識別技術", 99-2622-E-151-015-CC3, (2010/6/1~ 2011/5/31)- 共同主持人
[7] "結合H.264視訊壓縮之抗壓縮浮水印與自我組織演算法之影像源認證的數位視訊錄影認證系統", 98-2221-E-151-052-, (2009/8/1~ 2010/7/31) – 主持人
近五年研究成果
[1] Tsong-Yi Chen, Da-Jinn Wang, and Yi-Long Lin, "The High Accuracy Video Watermarking on H.264 by Majority," International Journal of Innovative Computing, Information and Control (IJICIC), Vol.7, No. 11, pp.6349-6358, Nov. 2011.[SCI & EI 期刋]
[2] Tsong-Yi Chen, Vaci Istanda and Chen-Wo Kuo, "An Empirical Study on Planning E-Learning Program for Culture and Arts in Taiwan," ICIC Express Letters, An International Journal of Research and Surveys, Vol. 5, No. 10, pp.3665-3670, Oct. 2011. [EI 期刊]
[3] Tsong-Yi Chen, Vaci Istanda and Chen-Wo Kuo, "The Case Study of RFID Innovative Application Services in National Palace Museum," ICIC Express Letters, An International Journal of Research and Surveys, Vol. 5, No. 1, pp.207-212, January 2011. [EI 期刊]
[4] 珐济•伊斯坦大、楊珮琦、陳聰毅, "線上角色扮演教學對於學習成效與環境態度影響之研究 (The Study of Effects on Online Role Play Teaching upon Learning Achievements and Environmental Attitude", 《中華管理發展評論》, 第2卷第2期, pp. 237-252, 99年12月.
[5] 珐济•伊斯坦大、郭于禎、陳聰毅, "網路概念構圖教學對家政學習成效之探究 (A Study of Web-base Home Economics Learning System by Applying Concept-mapping Instruction)", 《中華管理發展評論》, 第2卷第2期, pp. 237-252, 99年12月.
[6] Chao-Ho Chen, Tsong-Yi Chen, Da-Jinn Wang, and Yi Fan Li, "Multipath Flatted-Hexagon Search for Block Motion Estimation," Journal of Information Hiding and Multimedia Signal Processing (JIHMSP), Vol. 1, No. 2, pp.110~131, April 2010.
[7] *Tsong-Yi Chen, Vaci Istanda, Thou-Ho (Chao-Ho) Chen, Da-Jinn Wang, and Yi-Long Lin, "H.264 Video Authentication Based on Semi-Fragile Watermarking," International Journal of Innovative Computing, Information and Control (IJICIC), Vol. 6 , No. 3(B), pp.1411-1420, March 2010.[SCI & EI 期刋]
[8] *Tsong-Yi Chen, Thou-Ho (Chao-Ho) Chen, Da-Jinn Wang, and Yung-Chuen Chiou, "Real-Time Video Object Segmentation Algorithm Based on Change Detection and Background Updating,", International Journal of Innovative Computing, Information and Control (IJICIC)., Vol. 5, no. 7, pp. 1797-1810, July 2009. [SCI & EI 期刋]